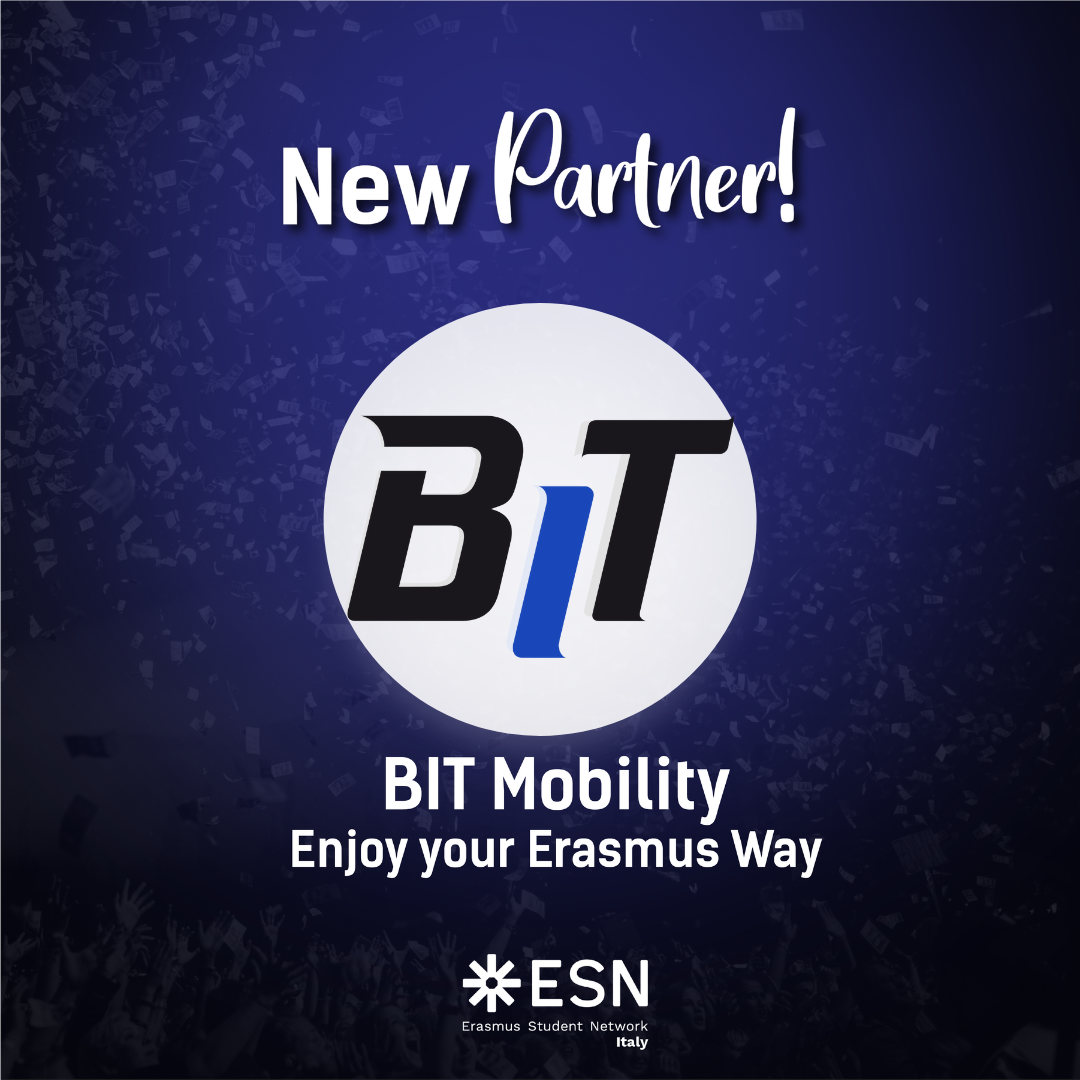 20% PER GLI I POSSESSORI DI ESNCARD
ESN Italia, in quanto Rete Italiana di associazioni universitarie volontarie, apartitiche e aconfessionali, che offrono i propri servizi agli studenti stranieri ospiti presso le università italiane ed agli enti italiani interessati ai programmi di scambio, è essa stessa libera associazione non lucrativa, apolitica, aconfessionale, la quale persegue tutti gli obiettivi espressi nello Statuto e nelle Direttive del Network Internazionale di cui è parte. Pertanto mira a favorire la mobilità di studenti universitari in Europa:
Prestando opera di accoglienza e consulenza agli studenti stranieri ospiti per un periodo di studio presso un'università italiana (attraverso un servizio che va dalla ricerca dell'alloggio al tutorato e all'organizzazione di eventi culturali e ricreativi che favoriscano l'integrazione dello studente straniero nell'ambiente universitario locale);
Fornendo un servizio di informazione aggiornato sui programmi europei di scambio inter-universitari;
Sviluppando una valutazione sistematica degli stessi programmi, attraverso l'esperienza degli studenti che vi hanno preso parte.
DETTAGLI CONVENZIONE
Sconto del 20% sulla tariffa a tempo di ogni noleggio.
2 sblocchi gratuiti al giorno.
Convenzione attiva dal Lunedì al Sabato.
La convenzione consente agli studenti Erasmus di avere 2 sblocchi gratuiti al giorno e di viaggiare con un costo al minuto scontato del 20%.  Per essere attivata è necessario scaricare l'App BIT Mobility, entrare all'interno della Sezione Profilo - Convenzioni ed inserire il codice dedicato. Necessario l'inserimento anche del codice ESN identificativo.
Scarica qui l'app.
Per maggiori info: https://bitmobility.it/convenzione-erasmus-student-network/
---------------------------------------------------------------------------------------------------------------------------------------------------------------------------------------------
20% FOR ESNCARD OWNERS
ESN Italia, as an Italian network of voluntary, non-partisan and non-denominational university associations, which offer their services to foreign students staying at Italian universities and to Italian entities interested in exchange programs, is itself a free non-profit association, non-political, non-denominational , which pursues all the objectives expressed in the Statute and Directives of the International Network to which it belongs. Therefore it aims to facilitate the mobility of university students in Europe:
• Providing hospitality and consultancy work for foreign students who are guests for a period of study at an Italian university (through a service that ranges from finding accommodation to tutoring and the organization of cultural and recreational events that favor student integration foreigner in the local university environment);
• Providing an updated information service on European inter-university exchange programs;
• Developing a systematic evaluation of the programs themselves, through the experience of the students who took part in them.
AGREEMENT DETAILS
• 20% discount on the timed rate of each rental.
• 2 free unlocks per day.
• Convention active from Monday to Saturday.
The agreement allows Erasmus students to have 2 free unlocks per day and to travel at a discounted rate of 20% per minute. To be activated, you need to download the BIT Mobility App, enter the Profile Section - Conventions and enter the dedicated code. It is also necessary to enter the ESN identification code.
Download here the app.
To get more info: https://bitmobility.it/convenzione-erasmus-student-network/