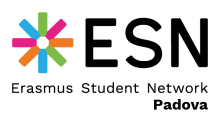 Address:
ESN Padova - Erasmus Student Network
Via Galileo Galilei, 42
35121 Padova (PD)
University:
Università degli Studi di Padova
ESN Padova - Erasmus Student Network
We are a group of girls and guys, all volunteers, who want to help international and Erasmus students that are coming to study in Padova with settling in and having a great time!

Almost all of us had a study abroad experience and are nostalgic about our nice time we had. Others want to breathe the international atmosphere in Padova.
But all of us can't wait to meet all the incoming students!
We organise city tours, parties, trips, daily and weekend excursions, dinners, BBQs, linguistic tandems, sport activities, social events, cultural events and much more!
What is our aim?
To welcome all the students, help them discovering this small but fascinating part of the world, and have fun all together!

We support the internationalization of our University and all the Exchange Programs that are offered by working together with the University of Padova in welcoming international and Erasmus students. We do so by collaborating with the Department of International Relations Office and organizing the "Welcome Day" for students coming from abroad.
Here you can see the video of our best event we organise: The Boat Party!