[SCROLL FOR ENGLISH VERSION]
100 Montaditos è un ristorante e tapas bar spagnolo, in cui qualità e originalità sono gli elementi distintivi.
Una delle chiavi del successo del menù è il pane.
Un pane unico, con una ricetta brevettata e infornato al momento dell'ordine del cliente. Un tipo di pane tradizionale, servito sempre caldo e croccante, preparato secondo la nostra formula esclusiva e offerto ad un prezzo irresistibile.
Le 100 varietà di ingredienti sono, senza dubbio, un altro dei segreti della popolarità del marchio.
Un modo divertente e originale di vivere la ristorazione. Un luogo dove condividere esperienze e vivere intensamente ogni momento.
Scopri i piatti della cucina spagnola: montaditos, tapas e raciones, il tutto accompagnato da bevande tipiche.
La convenzione tra ESN Italia e 100 Montaditos Italia è valida dal 25 novembre 2018 e per poter usufruire dello sconto del 10% sarà necessario mostrare in cassa la propria ESNcard.
Lo sconto del 10% è valido presso tutti i locali 100 Montaditos presenti nella lista sottostante. Non cumulabile con altre promozioni.
Elenco dei punti vendita convenzionati:
100M CC ANAGNINA - VIA TORRE DI MEZZAVIA 35 (ROMA)
100M CC AURELIA ANTICA SHOPPING CENTER - VIA AURELIA ANTICA 46 (GROSSETO)
100M CC CAMPANIA - MARCIANISE - STRADA STATALE 87 (CASERTA)
100M CC EUROMA 2 - VIALE DELL' OCEANO PACIFICO 83 (ROMA)
100M CC GLOBO SHOPPING CENTER - VIA ITALIA 197 (BUSNAGO)
100M CC MARTINELLA - LARGO SILVANO MANGANO (PARMA)
100M CC ORIOCENTER - VIA PORTIVO 71 (BERGAMO)
100M CC ROMA EST- VIA COLLATINA 858 (ROMA)
100M CC SAN DONATO- VIA ENRICO FORLANINI 1 (FIRENZE)
100M CENTRO DIVERTIMENTI FIUMARA - VIA FIUMARA 15/16 (GENOVA)
100M CENTRO SARCA - VIA MILANESE (MILANO)
100M CORSO FEDERICO II 49 (L'AQUILA)
100M CORSO SAN GIORGIO 5 (TERAMO)
100M CORSO VITTORIO EMANUELE II 23 (CAGLIARI)
100M HOTEL DE ROME - LARGO CORRADO RICCI 37/A (ROMA)
100M LARGO PORTA NUOVA 7/9 (BERGAMO)
100M PIAZZA CORRUBIO 31A, (VERONA)
100M PIAZZA FONDERIA 1-2 (PALERMO)
100M PIAZZA GARIBALDI- STAZIONE CENTRALE NAPOLI, GALLERIA IPOGEA (NAPOLI)
100M PIAZZALE DI PONTE MILVIO 10 (ROMA)
100M RIVA DELLA POSTA 13 (SIRACUSA)
100M VIA ALDO MORO 131 (FROSINONE)
100M VIA ASCANIO SFORZA 49 (MILANO)
100M VIA BERGOGNONE 24 (MILANO)
100M VIA CAIO DUILIO 28-30-32 (NAPOLI)
100M VIA CARDINALE GIOVANNI MORONE  46-48 – PIAZZA DELLA POMPOSA (MODENA) 
100M VIA DELLE SCIENZE 8 (FERRARA)
100M VIA DI ACQUA BULLICANTE 278 (ROMA)
100M VIA DI SAN ROMANO 7A(ROMA)
100M VIA FILIPPO TURATI 111 (LEGNANO-CERRO MAGGIORE)
100M VIA LUIGI BONAZZI 15 (PERUGIA)
100M VIA PIAVE 93 (PESCARA)
100M VIA ROGGIA MORLANA 1, DALMINE (BERGAMO)
100M VIA SANT'ANSELMO 2 (TORINO)
100M VIA SPARANO DA BARI 143 (BARI)
100M VIA STEFANO BREDA 21 (PADOVA)
100M VIA TEMPIO MALATESTIANO 30 (RIMINI)
100M VIA TIBURTINA 141 (ROMA)
100M VIA TUSCOLANA 1050 (ROMA)
100M VIA XX SETTEMBRE 22 (PAVIA)
100M VIALE ARMANDO DIAZ 154 (CAGLIARI)
100M VIALE DELLA MARINA 42 (LIDO DI OSTIA - ROMA)
100M VIALE PASUBIO 16 (MILANO)
100M VIA GIOVANNI MERLIANI 5 – VOMERO (NAPOLI)
100M CC LA CARTIERA - VIA MACELLO 22 (POMPEI)
100M CORSO ANDREA PALLADIO 36 (VICENZA)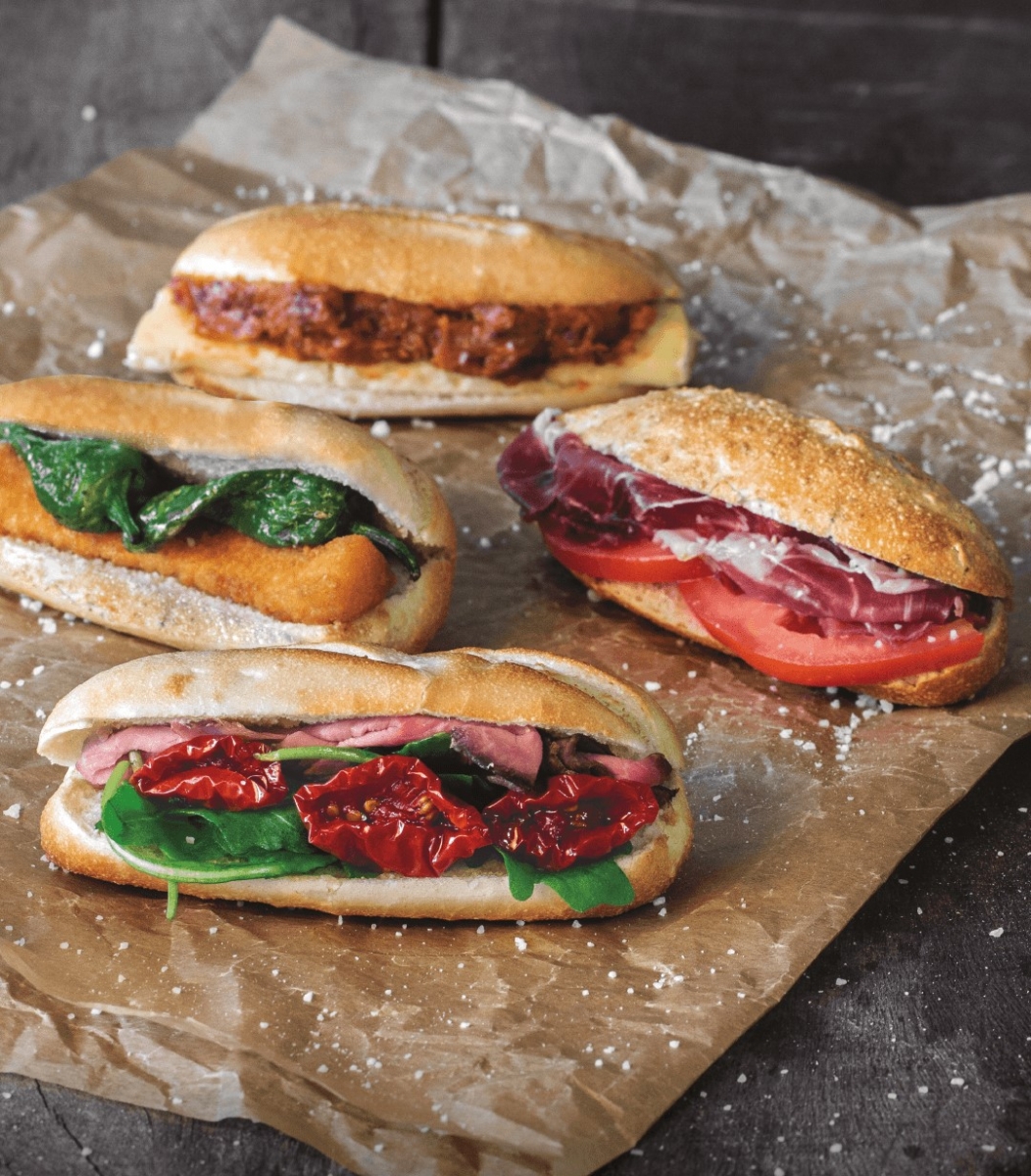 -------------------------------------------------------------------------------------------------------------------------
100 Montaditos is a Spanish restaurant and tapas bar; quality and originality are the distinctive elements. One of the keys to the success of the menu is the delicious bread. It has a patented recipe and it is always freshly baked. A traditional bread served hot and crunchy, prepared according to our exclusive formula and offered at an irresistible price.
The 100 varieties of ingredients are definitely another secret of the brand's popularity.
A fun and original way to experience food. A place to share experiences and live intensely every moment.
Discover the dishes of the Spanish cuisine: montaditos, tapas and raciones, all accompanied by typical drinks.
The partnership between 100 Montaditos and ESN Italy is valid since November 25th 2018 and you can enjoy a 10% discount on all the menu just showing your ESNcard at the desk.
The 10% discount is valid in all the 100 Montaditos restaurants in the list below. Not combinable with other promotions.
List of the partner shops:
100M CC ANAGNINA - VIA TORRE DI MEZZAVIA 35 (ROMA)
100M CC AURELIA ANTICA SHOPPING CENTER - VIA AURELIA ANTICA 46 (GROSSETO)
100M CC CAMPANIA - MARCIANISE - STRADA STATALE 87 (CASERTA)
100M CC EUROMA 2 - VIALE DELL' OCEANO PACIFICO 83 (ROMA)
100M CC GLOBO SHOPPING CENTER - VIA ITALIA 197 (BUSNAGO)
100M CC MARTINELLA - LARGO SILVANO MANGANO (PARMA)
100M CC ORIOCENTER - VIA PORTIVO 71 (BERGAMO)
100M CC ROMA EST- VIA COLLATINA 858 (ROMA)
100M CC SAN DONATO- VIA ENRICO FORLANINI 1 (FIRENZE)
100M CENTRO DIVERTIMENTI FIUMARA - VIA FIUMARA 15/16 (GENOVA)
100M CENTRO SARCA - VIA MILANESE (MILANO)
100M CORSO FEDERICO II 49 (L'AQUILA)
100M CORSO SAN GIORGIO 5 (TERAMO)
100M CORSO VITTORIO EMANUELE II 23 (CAGLIARI)
100M HOTEL DE ROME - LARGO CORRADO RICCI 37/A (ROMA)
100M LARGO PORTA NUOVA 7/9 (BERGAMO)
100M PIAZZA CORRUBIO 31A, (VERONA)
100M PIAZZA FONDERIA 1-2 (PALERMO)
100M PIAZZA GARIBALDI- STAZIONE CENTRALE NAPOLI, GALLERIA IPOGEA (NAPOLI)
100M PIAZZALE DI PONTE MILVIO 10 (ROMA)
100M RIVA DELLA POSTA 13 (SIRACUSA)
100M VIA ALDO MORO 131 (FROSINONE)
100M VIA ASCANIO SFORZA 49 (MILANO)
100M VIA BERGOGNONE 24 (MILANO)
100M VIA CAIO DUILIO 28-30-32 (NAPOLI)
100M VIA CARDINALE GIOVANNI MORONE  46-48 – PIAZZA DELLA POMPOSA (MODENA) 
100M VIA DELLE SCIENZE 8 (FERRARA)
100M VIA DI ACQUA BULLICANTE 278 (ROMA)
100M VIA DI SAN ROMANO 7A(ROMA)
100M VIA FILIPPO TURATI 111 (LEGNANO-CERRO MAGGIORE)
100M VIA LUIGI BONAZZI 15 (PERUGIA)
100M VIA PIAVE 93 (PESCARA)
100M VIA ROGGIA MORLANA 1, DALMINE (BERGAMO)
100M VIA SANT'ANSELMO 2 (TORINO)
100M VIA SPARANO DA BARI 143 (BARI)
100M VIA STEFANO BREDA 21 (PADOVA)
100M VIA TEMPIO MALATESTIANO 30 (RIMINI)
100M VIA TIBURTINA 141 (ROMA)
100M VIA TUSCOLANA 1050 (ROMA)
100M VIA XX SETTEMBRE 22 (PAVIA)
100M VIALE ARMANDO DIAZ 154 (CAGLIARI)
100M VIALE DELLA MARINA 42 (LIDO DI OSTIA - ROMA)
100M VIALE PASUBIO 16 (MILANO)
100M VIA GIOVANNI MERLIANI 5 – VOMERO (NAPOLI)
100M CC LA CARTIERA - VIA MACELLO 22 (POMPEI)
100M CORSO ANDREA PALLADIO 36 (VICENZA)