[SCROLL DOWN FOR ENGLISH VERSION]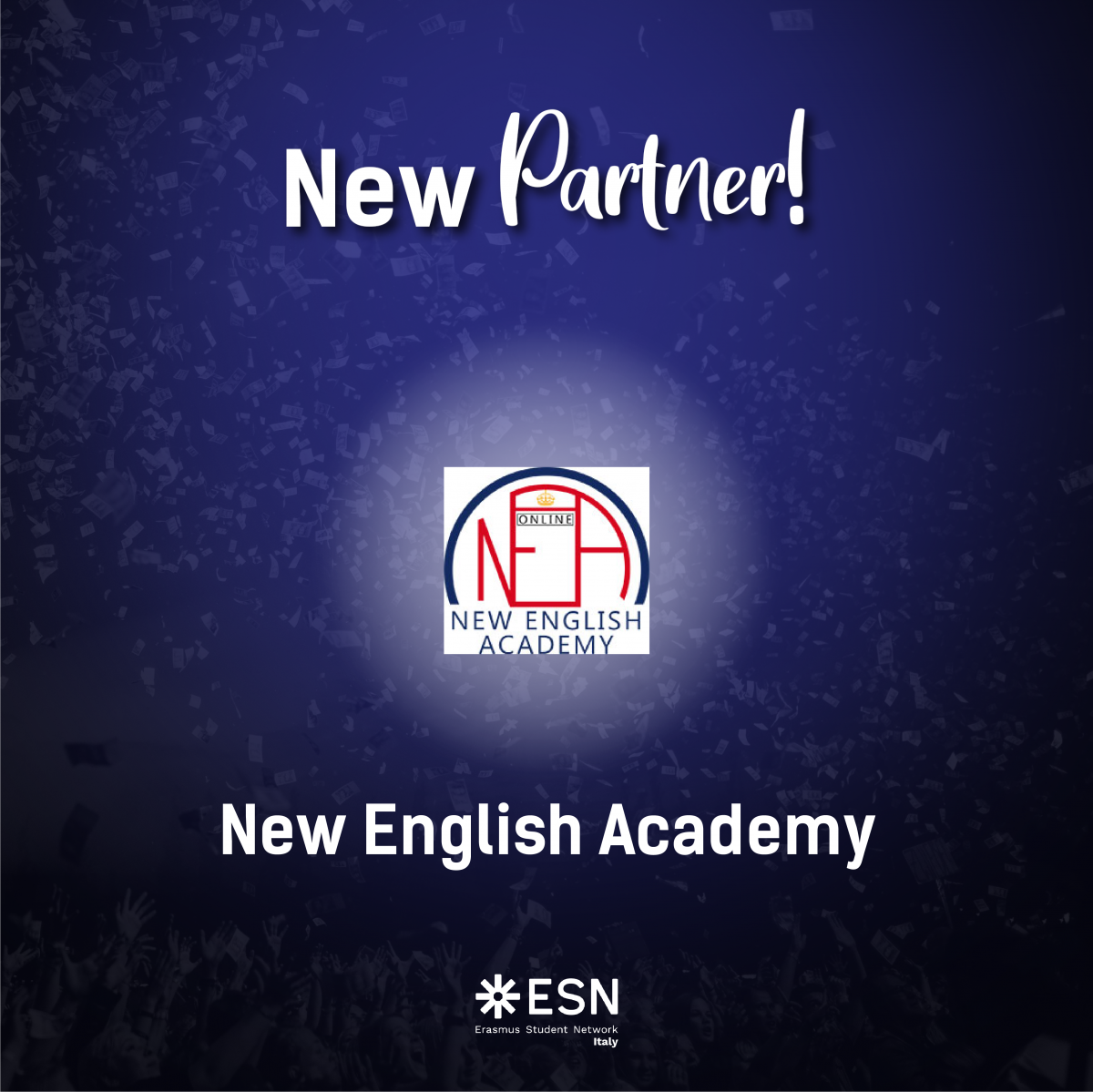 New English Academy è una scuola di inglese che offre corsi di preparazione sia in modalità in aula che in modalità online, tutti tenuti da insegnanti madrelingua inglesi.
Infatti, propone una serie di corsi di studio in inglese a scopi professionali per l'ottenimento di certificati e diplomi rilasciati e accreditati da ALAP Ltd, una società registrata nel Regno Unito e un'organizzazione certificatrice specializzata nello studio della lingua inglese. Inoltre, New English Academy organizza corsi preparativi per poter affrontare gli esami delle più importanti certificazioni in lingua inglese, quali Trinity College London, Quadro Comune Europeo (QCER), TOEFL, IELTS, Cambridge Assessment e Pearson Vue. 
Recentemente, New English Academy e Erasmus Student Network Italia hanno stretto una convenzione che prevederà il 35% di sconto su tutti i corsi del loro sito, newenglishacademy.it usando il codice sconto NEA35ESN.
______________________________________________________________________________________
New English Academy is an English school that offers preparation courses in both classroom and online mode, all taught by native English teachers.
In fact, it offers a series of study courses in English for professional purposes for obtaining certificates and diplomas issued and accredited by ALAP Ltd, a company registered in the United Kingdom and a certification organization specializing in the study of the English language. In addition, New English Academy organizes preparatory courses to be able to take the exams of the most important certifications in English, such as Trinity College London, Common European Framework (CEFR), TOEFL, IELTS, Cambridge Assessment and Pearson Vue.
Recently, New English Academy and Erasmus Student Network Italy signed an agreement that will provide a 35% discount on all courses on their site, newenglishacademy.it using the discount code NEA35ESN.