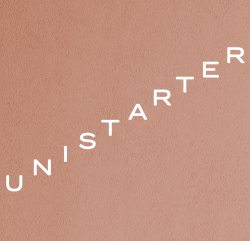 NEW PARTNER ON THE SPOTLIGHT
UniStarter è stata fondata per aiutare studenti e giovani a iniziare una nuova vita indipendente. Sulla base delle nostre esperienze durante gli studi all'estero, ci siamo resi conto che, soprattutto all'inizio, la vita universitaria non può essere solo eccitante, ma a volte anche estenuante. Allestire la tua nuova stanza per la prima volta può essere una sfida, ma vogliamo aiutarti in questo viaggio.
Per noi è importante offrire a studenti e giovani la possibilità di acquistare accessori per la casa a basso costo e di specificare la data di consegna desiderata. Per offrirti questo servizio, collaboriamo con case di studenti e università in tutta l'Austria. Il nostro obiettivo è garantire che il pacco sia già sul posto al tuo arrivo, in tempo per il tuo giorno di arrivo!
Trasferirsi all'estero non è mai stato così facile.
Con la tua ESNcard e il codice sconto ESNITALY puoi ottenere il 10% sul listino.
_______________________________________________________________________________________________
UniStarter was founded to help students and young people get started in a new, independent life. Based on our own experiences while studying abroad, we realized that especially at the start, college life can not only be exciting but sometimes also exhausting. Setting up your new room for the first time can be a challenge, but we want to help you on this journey.
It is important to us to offer students and young people the opportunity to buy home accessories at low cost and to specify their desired delivery date. In order to offer you this service, we cooperate with student homes and universities throughout Austria. Our aim is to ensure that the package is already on site when you arrive - in time for your move-in day!
Moving abroad has never been easier.
With your ESNcard and the discount code ESNITALY you can get the 10% on the price list.