Italian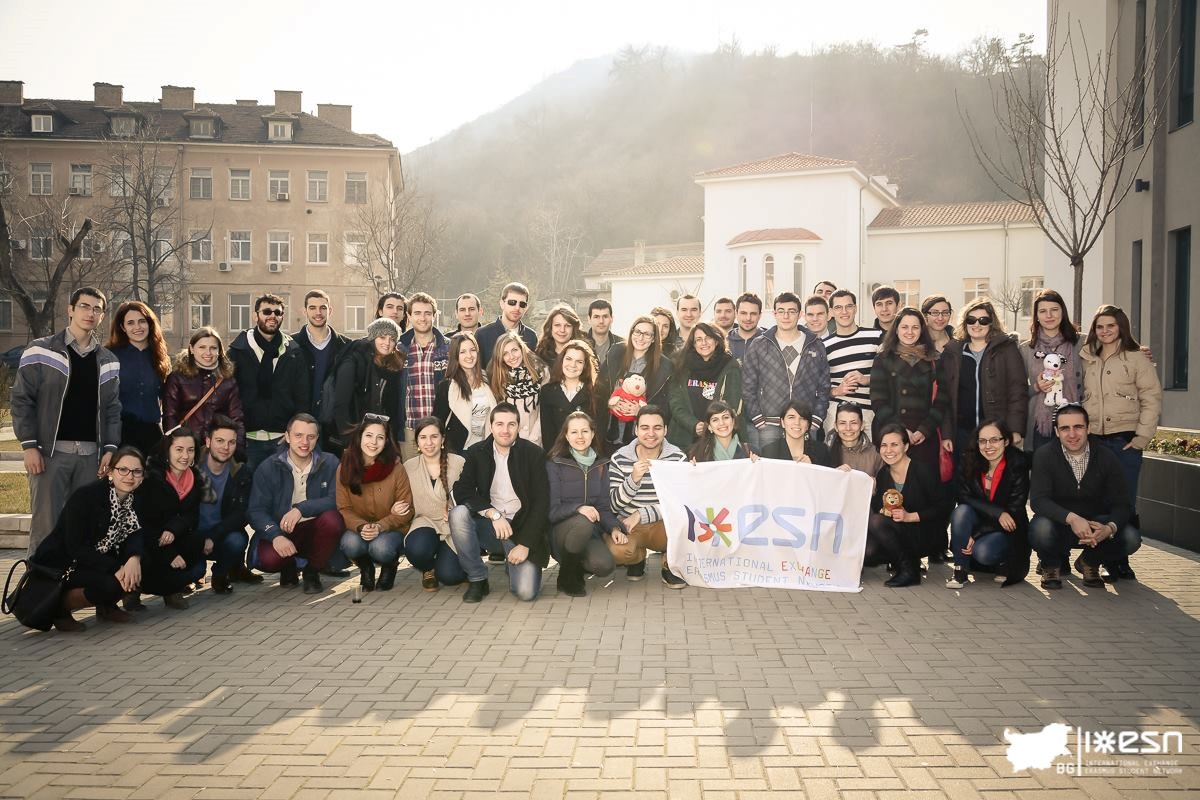 20/02/2015
There we were, Simone and I, at the Bergamo airport with the sun barely risen. The boarding to Sofia started and so did that weekend's surprises: a friend of mine I had met on Erasmus was also catching that flight, heading back home to end his stay in Milan. The three of us teamed up for the short flight that would take us to Bulgaria's capital.



Once our flight landed we parted ways. There at the airport, Stella, the president of ESN Bulgaria, was waiting for us to guide us along the roads filled with instructions in Cyrillic. Our first stop was at the EU delegation where we met Jorge, former president, who had gained his nickname during his Erasmus in Spain. He kindly let us leave our luggage there while Stella took us out on a short tour in the centre of Sofia and for a deliciously typical Bulgarian lunch: cream soup in a bun (oh, how I missed bread) and some meatballs were my choice. After retrieving our luggage, we went to catch the bus to Plovdiv, where the National Platform would take place.
After a 2 hour ride composed of intercalated naps with a certain dazzlement observing the snow spots along the way (I come from a Southern European country, my usual snow are ice cubes on a refreshing drink), we arrived. We waited a few minutes for Jorge, who had come from Sofia by car, Nasko, president of ESN Plovdiv, and Alex, who were coming to pick us up and take us to the student dormitory where we would stay until Sunday. After, we rendezvoused with Stella and Mel, who took us on a rather cold, but incredibly rewarding, nocturnal tour of Plovdiv's old city. The Otoman empire's presence, Roman arenas, and a wonderful view of the city from one of its hills were all in that evening's menu. Something very interesting on the menu as well was dinner, another delight of Bulgarian cuisine, accompanied by a very pleasant conversation with everyone present, during which I learnt that Alex had been on Erasmus in Portugal. To cap the night off before leaving for the dormitory, Simone bought us all a round of limoncello which took us back to Italy while the taste lingered in our mouths.
21/02/2015
8h30 and the alarm goes off: time to get ready and head to the NP at the local Medical School. We got there around 10h, stole a quick coffee from the soon to be coffee break and attended the first presentations before ours. Having an outside perspective, not only for not being part of ESN Bulgaria, but for not being a part of ESN as a whole, I must say the experience only deepened my curiosity and will of one day becoming an ESNer. This would probably not have happened if the speakers had not had the kindness of addressing the audience in English, only due to our presence.
The time finally came: First, Simone made a presentation about ESN Italy, their activities and the highly acclaimed Generazione Senza Voto project. Then it was time to join him on stage and bring some Bulgarian ESNers to Milano! We were happy to receive a lot of positive feedback during the rest of our stay and even beyond, by e-mail.
After our presentation the language switched to Bulgarian: some more serious matters which demanded full power of expression from all the participants approached. Short after we paused for lunch, pizza (deliciously ironic)! Before, though, Martin from ESN Plovdiv showed us around campus and briefed about its history and more international side. When the NP resumed, a surprised awaited everyone: a video from the president of ESN International wishing all the best to those who were present.
Simone and I went for a walk around Plovdiv and when we got back we were still in time to observe the debates around proposals being discussed. Never before had I wanted to understand a different language like I did at that moment, such was the commitment and vivacity displayed by everyone.
The day came to an end and it was time for another traditional Bulgarian dinner with great food, great atmosphere and a lot of folk dancing involved (I heard rumours some videos were made, I have had nightmares ever since). A special thanks to Darena who never failed to encourage us despite my two left feet. Afterwards, we all went to a club to show off our ESN spirit to all those who dared join us.
22/02/2015
Our last day in Plovdiv arrived and after the presentations and discussions it was time for us to leave for Sofia. We were joined by Stella and Eli on the bus who kept the Bulgarians' warmth hospitality throughout all the ride and during dinner, when we also met up with Dimitar who had been at the NP. They left us at our hostel with a heartfelt farewell, and to finish our stay Simone and I took one last short drink in Sofia, before the alarm went off at 4 am: Italy was calling us back.