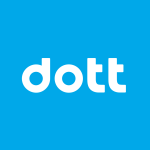 About Dott

Dott is one of the main European shared micromobility operators. We operate e-scooters and e-bikes in 8 countries and more than 50 cities.

What's the deal?

Dott offers 20% off to Erasmus students on rides with e-scooters and e-bikes in Italy.
How does it work?
Click below to claim your personal promo code, and follow few simple steps.
Download the Dott app

Add the code* in Menu → Promo on the Dott app

Look for the closest Dott and jump on board!
*Conditions
The discount applies to the standard price per min, up to a maximum of 350 rides, in the cities of Alghero, Catania, Ferrara, Milan, Monza, Padua, Palermo, Rome, Turin, Varese, Verona. The discount is valid until August 31st. User T&Cs apply.
More info on this page on ESNcard.org